20 Fun Games for a Bridal Shower (and Bachelorette Parties)
Both New Games and Popular Ones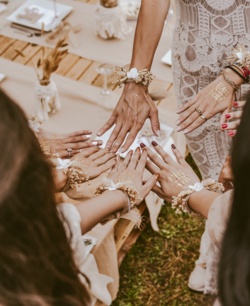 Welcome to the list of my favorite bridal shower and bachelorette party games!
There are some embarrassing games here, too, that work best for the bachelorette party, gazette party, or hen's party.
How Many Games Should You Play at a Bridal Shower?
2-3 games are perfect for a bridal shower. If you play some really short games, you could add another 1 or 2. At a smaller and more intimate shower with just close friends, you can play more games than at a larger party.
What Types of Games Should You Play at a Bridal Shower?
The types of games to play depend a lot on the location and guests. Are you indoors or outdoors? Many or few guests?
I prefer games that make people talk about the upcoming wedding or help people get to know the bride-to-be. However, some fast-paced games are a great shakeup to add fun and entertain onlookers.
What Types of Games Do You Play at a Bachelorette Party?
When playing games at a bachelorette party, don't be afraid to be bold and go wild (if the bride-to-be appreciates that kind of fun). For example, arrange a quiz that makes the guests blush or prepare a game involving suspicious items.